A Tropical Lime Storm
I have always been intrigued by Mountain Dew Baja Blast, from the first time I saw it with all of the other fountain sodas at my local Taco Bell. A flavor of Mountain Dew shrouded in mystery yet somehow it was always there, right in front of me, not begging to be drank, but simply presenting itself as if to say "Take me as I am, or watch me as I go…".
Baja Blast came on to the scene in 2004 and you could only get it at Taco Bell. The label was beautiful and the tagline read "A Tropical Lime Storm" ,🍈🌴🌊⛈ I mean I was sold on this the moment I laid eyes on it. The creative minds at Pepsico actually did put in the time and research to create what they hoped would be a drink that would compliment the food at Taco Bell.
An Exclusive Soda, With a Purpose
Now they did not just take in to account flavor, but color as well. So when this light blue-green colored, tropical lime flavored beverage was deemed ready for market, a deal was struck. It was agreed that Taco Bell and Taco Bell alone would have TEN YEARS EXCLUSIVITY on Baja Blast. Literally no other place in the world was allowed to offer this drink for ten years. You don't see this kind of thing very often, which really adds an extra layer of magic and mystery to this well thought out TROPICAL LIME STORM 🍈🌴🌊⛈.
Key Limes

and

Blue Powerade

The color of this drink is truly brilliant. I mean it looks not of this world. Just the most gorgeous sea foam green, or blue green, or however you want to describe it. I love that Taco Bell gave it to me in this clear cup so I could gaze upon its beauty in my hand, bubbling with carbonation, flirting with the ice cubes.
The flavor of this drink is hard to describe. Yes there are subtle notes of lime, but it tastes more like a really crisp and refreshing citrus candy. One thing is for sure it is DELICIOUS and you immediately just want to chug this thing. While I did say it tastes like candy, it is not overly sweet. If I had to guess the recipe I would say:
Key Limes
Blue Powerade
Space Water ✨🛰🚀
Regular Mountain Dew
If you told me this drink was the best way to hydrate after running a marathon I would 100% believe you. This drink is not syrupy or thick feeling in your mouth, it is super smooth and refreshing. The Baja Blast I am drinking for this review came from the fountain, I would imagine the canned version would not be as crisp. This is truly a magnificent drink.
Limited Retail Runs
Nowadays it is not uncommon to see Baja Blast outside of a Taco Bell. It was offered in stores for the first time in the summer of 2014, and continues to have limited retail runs here and there to this day. Near the end of 2017 Mountain Dew said that if enough people used the hashtag #BringBajaBlastBack then they would bring it back to stores in 2018. I am sure you can guess the demand was huge and they did another limited run. Baja Blast is slated to return again in mid-March to early June of 2019 😎.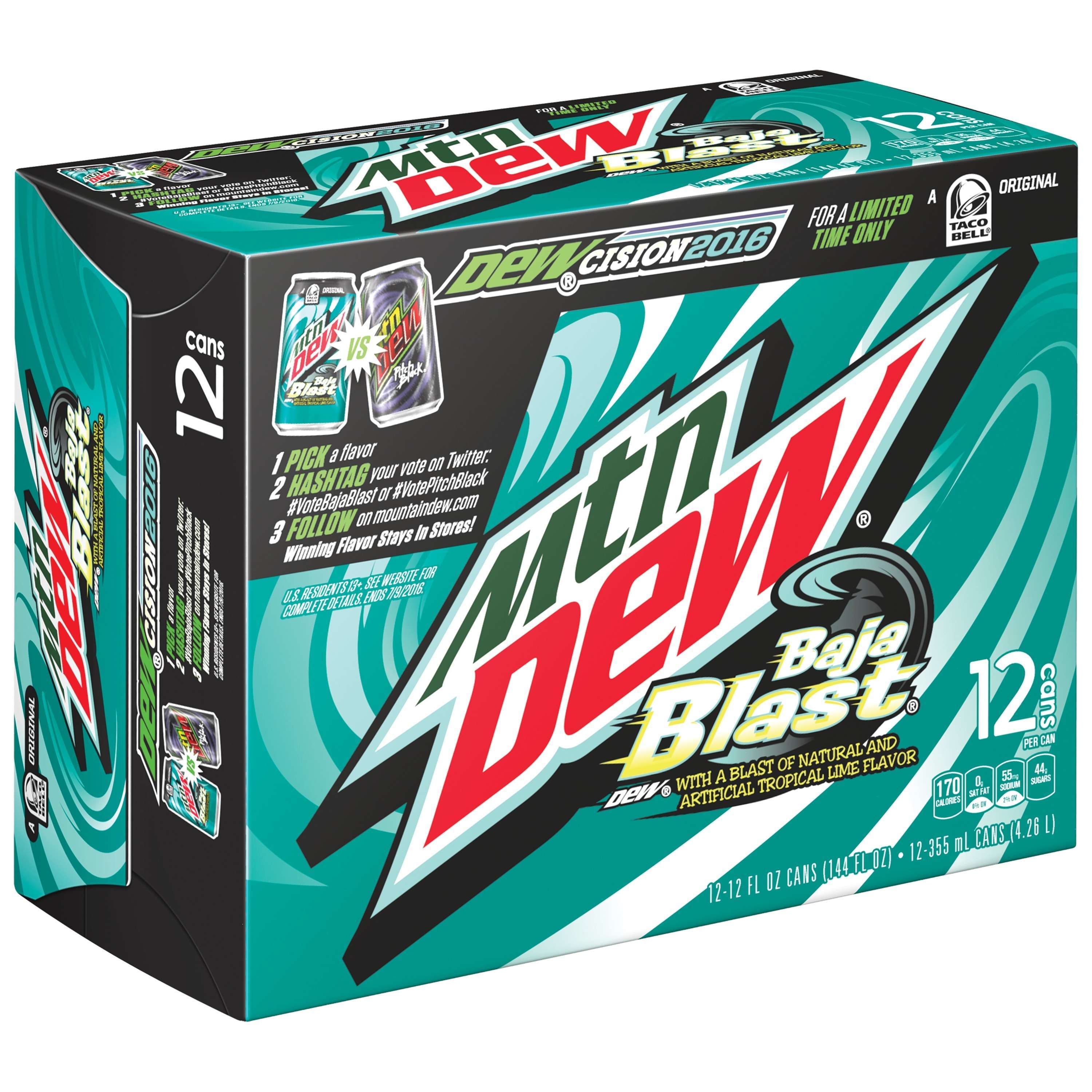 I mean Twitter got pretty wild for this soda.
Now that's a sweet ride!

Tweet us the last time @chaseelliott drove the @MountainDew Baja Blast paint scheme for a chance to win a special surprise. #BringBajaBlastBack pic.twitter.com/eFPXGB8QI1

— Hendrick Motorsports (@TeamHendrick) April 12, 2018
Chris got drenched to get Summer's Most Wanted back on shelves. Thank him by stocking up and getting Mtn Dew Baja Blast today while supplies last. #BringBajaBlastBack pic.twitter.com/I62264iZXv

— Mountain Dew® (@MountainDew) April 30, 2018
Well, did they get it right? Does it pair well with Taco Bells 🌮🛎 budget Mexican food? In this reviewers humble opinion the answer is yes. I personally think the scientific minds behind this revered soda knocked it out of the park.
What do you think of Mountain Dew Baja Blast? Do you have a favorite Mountain Dew flavor? Comment Below!
Summary
Reviewer
Review Date
Reviewed Item
Author Rating
Product Name